Before exploring balance sheets accounts and balance sheet items, note that Balance Sheet, also is called Statement of Financial Position, measures financial position of the business. It is dated at the particular moment of time, i.e. end of accounting period.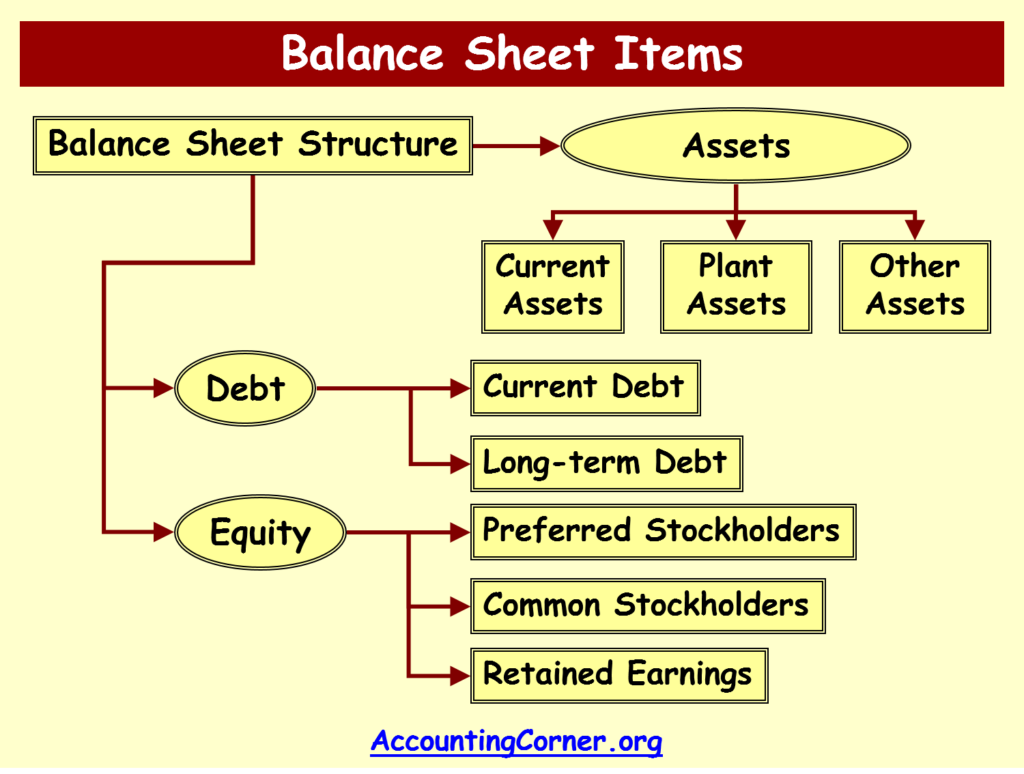 So, what is included in the Balance Sheet? Balance Sheet accounts are divided into 3 main groups:
Assets

Liabilities

Shareholders' equity
Assets
First group of Balance Sheet accounts is called Assets. Assets are divided into 2 categories;
Current assets

Long-term assets

Current Assets
Current assets are those, which will be converted to cash, sold or consumed in the business activities during 12 months. Current assets include:
Cash and cash equivalents – the most liquid asset of the business. This balance sheet accounts can also include money-market accounts, other financial instruments, which can be easily converted to cash

Short-term investments – stocks and bonds in other companies, kept for sale over coming 12 months

Accounts receivable – amounts, the business plans to collect from customers for sale of goods or provision of services. Accounts receivable are created when sale is made on credit, i.e. cash is not received at the moment of sale.

Notes receivable – amounts, the business plans to get from the third parties owed to it based on the signed promissory notes

Inventory – depending on the type of business the entity operates in, inventory can include items for sale (inventory or merchandise inventory), raw materials for production, manufactured goods for resale

Prepaid expenses – amounts paid in advance for future expenses, like insurance, advertising. They are included into the balance sheet as the business will benefit from these expenses only in the coming periods of time.
Long-term Assets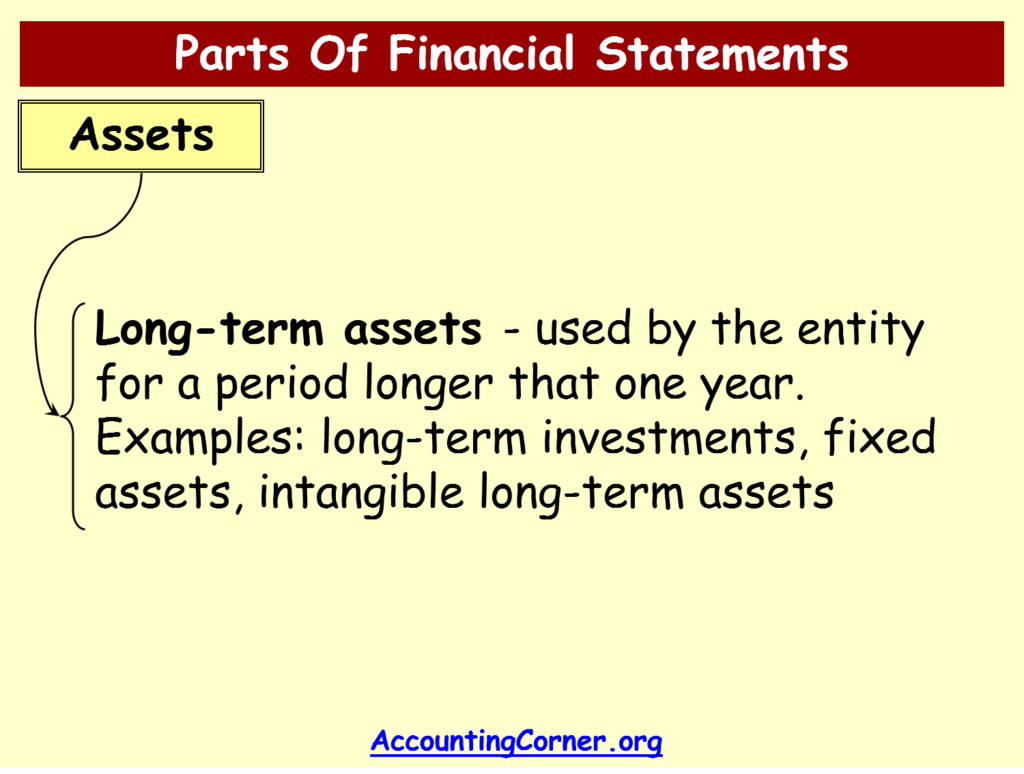 Long-term assets are used in the activities of the business for a long (longer than 12 months) period of time. These assets include:
Property, Plant and Equipment (which are called plant assets), which usually include land, buildings, machinery, computers, office equipment. These assets are stated at historical acquisition costs less accumulated depreciation. This difference is called Net Book Value. It does not mean that in case the assets will be sold, the business will get the same amount of money for the sale of these assets. Depending on the form of balance sheet, historical acquisition cost and accumulated depreciation might be stated separately. If not, these items can be seen in the explanatory notes to the financial statements.

Other assets might include intangible assets, which have no physical form (patents, trademarks, goodwill), long-term investments, which are kept for longer period of time and there is no intention to sell them within 12 months. Also other assets might include those, which cannot be assigned to any category.
Liabilities
Liabilities are also divided into long-term and current categories.
Current liabilities
Current liabilities are liabilities to be repaid within 12 months period of time. They include:
Accounts payable – debt of the business to suppliers of goods and services

Income taxes payable – tax debt to the state budget

Short-term notes payable – other amounts to be repaid back to creditors within 12 months

Other current liabilities – salaries payable, utilities, other accrued, but not paid yet expenses

Long-term liabilities
Long-term liabilities include debts to creditors to be repaid after the period of 12 months.
Shareholders' Equity
Other category of Balance Sheet accounts is Shareholders' Equity, which is a difference between Assets and Liabilities – net worth of the business belonging to shareholders. The following items are included into Shareholders' Equity:
Common stock – shares issued to shareholders, stated at par value

Paid-in capital – includes amounts of cash received on initial sale of shares of the business, which was received since payment was higher than par value

Retained earnings – accumulated profit (loss) from the beginning of business operations and not distributed to (covered by) shareholders.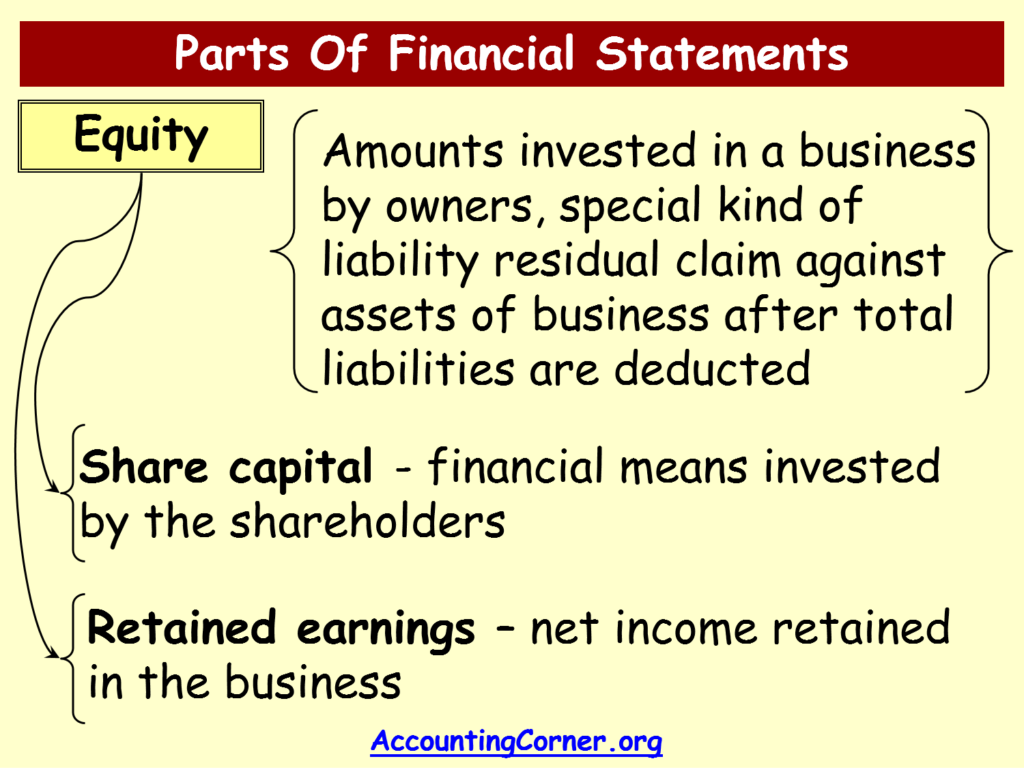 Sometimes shareholders' equity might also include own shares of the business which were re-purchased from shareholders.
Explore also Balance Sheet Example, Template and Sample Format